Recent Announcements
Subscribe to posts
People's Climate Prayer: November 29th – December 11th, 2015
12th November 2015
To All Plum Village Practice Centers,
To All Order of Interbeing Members,
To All Our Sanghas World-wide,
To Our Dear Beloved Friends,
To support the upcoming Paris Climate Summit (COP21) and in solidarity with the Global Buddhist Climate Change Collective, One Earth Sangha, Plum Village Earth Holder Sangha, and faith communities around the world, we are calling on the International Plum Village Community to gather and send our spiritual energy to Mother Earth and to international political leaders, so that they may have the courage, clarity, and compassion to come to a wise and responsible agreement.
As a global community we have the technology, we have the opportunity, and what we need now is the political and collective will and spiritual courage to act decisively to change course.
We invite our Sanghas to come together to breathe, sit, and walk mindfully for the Earth, and generate a powerful collective energy of mindfulness and compassion. This powerful collective energy is our spiritual offering to the Paris Climate Summit and the highest form of prayer for our precious planet.
Here are actions we can take as a community:
1. Join a March: On Sunday November 29th we invite you to gather as a Sangha and join a Global Climate March in a town or city near you. We can contribute to the Climate March our collective energy of peace and stillness, enjoying every step with freedom and deep connection to the Earth. You can find a march near you or create an event of your own.
2. Fast from meat and dairy for two weeks: For the duration of the Paris Climate Summit, from November 30th to December 11th, we invite you to fast from meat and dairy products. You can come together as a sangha to eat a vegan meal "potluck-style" or as a family in your home. Eating in this way nourishes our energy of compassion, and we can send this energy to support the Paris negotiations. As we eat our meal, we may enjoy moments of silence to cherish the food and nourish our gratitude and appreciation for the Earth. You may like to practice The Five Contemplations.
3. Wear a Green Ribbon: For these two weeks, from November 30th to December 11th, we invite you to wear a green ribbon in order to raise awareness, amongst those around you, of our collective practice of mindfulness and compassion in solidarity with the Earth during this time.
4. Get Together: We encourage you to attend a sangha gathering near you, and to read from Thầy's books Love Letter to the Earth and The World We Have. Raising awareness in our sanghas promotes collective awakening in society. You may also like to join gatherings and vigils organised by our brothers and sisters in other faith traditions and climate action groups, and offer your presence, peace, compassion and support. 
5. Make a Commitment: We encourage you to reflect on your lifestyle and consider making a personal commitment with concrete actions to reduce your environmental impact. Tell those you live with or your local sangha what you plan to do (or refrain from doing), and ask for their support.
When we meditate together and walk mindfully together, we amplify the power of our mindfulness, concentration and compassion. This strong energy of collective awareness will be felt in the world. It has the power to re-establish the Earth's equilibrium and restore balance, since we are nothing less than Mother Earth herself. Our actions will lead to collective insight, collective awakening, and collective change.
We do not know what the outcome of the Summit will be. But we determine our future by the way we live the present moment, and the way we live our daily life. Our awareness and compassion, and our love for the Earth will extend far beyond December's Summit.
With trust and love,
Thầy Pháp Dung
On behalf of the International Plum Village Community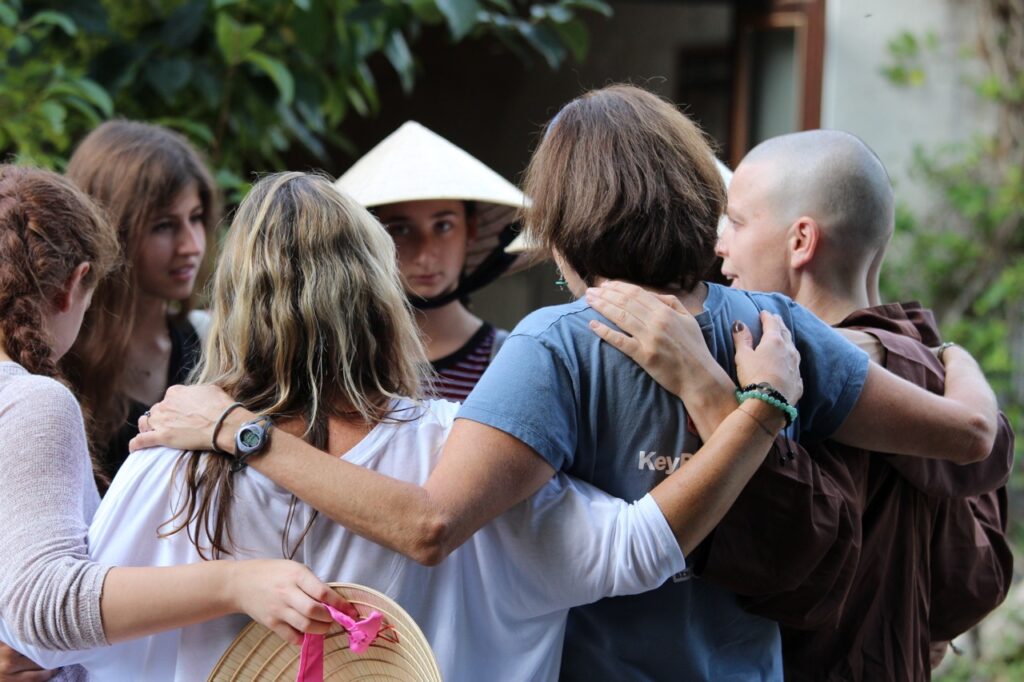 The Florida Community of Mindfulness will hold a memorial service onAugust 22nd for our beloved Dharma brother and dear friend, Bill Menza, who transitioned from his body on the evening of July 21st. The service will take place at our Tampa center at 11 am.
We are collecting remembrances, anecdotes and reflections about Bill from his friends and students to present to his wife, Alicia, and son, Charlie. If you would like to share any of these, please email them to Sam Warlick at rsam123@earthlink.net. If you would like to speak at the service, please let Sam know as well.
Bill had a deep and abiding love for Buddhist studies, and with the support of his wife and son, we have established a "Brother Bill Fund for the Support of Dharma Studies" in his honor. Please send any gifts in Bill's memory to the Florida Community of Mindfulness at 6501 N. Nebraska Ave, Tampa, FL 33604, and indicate that your gift is for this fund.
For those who didn't know Bill, he was a lay Dharma teacher, having received transmission to teach by Thich Nhat Hanh. He taught at several New England sanghas as well as in Florida, and was instrumental in working with our teacher Fred Eppsteiner to create and nurture the Order of Interbeing community for the Florida Community of Mindfulness. Bill was deeply loved by many, including Alicia, Charlie, and Bill's fellow Dharma teachers, Order of Interbeing members, students, and numerous Dharma brothers and sister throughout the world. He loved the Dharma in so many forms, from the deepest teachings to joyful songs. 
Bill loved to write Dharma poetry, a book of which is currently being published by fellow sangha members. One of Bill's recent poems, written upon the passing of a family member, is shared below.
Bill's human form may be gone, but his good deeds and love will live on in the hearts of many.

Non-Death by Bill Menza
We are
With you
At this time
Of no birth
And no death.
For there is 
Only transformation.
Returning
To what we were once.
To the source
Of what we are.
For now here 
There is only
The Path
The Way
Awakening us
To Oneness.
Official Announcement
Plum Village, France
April 6, 2015
To all Plum Village Practice Centers,
To all Practice Centers and Sanghas World Wide,
To our Dear Beloved Friends,
We are happy to report that Thay's health has continued to improve at the specialist stroke rehabilitation clinic in Bordeaux, where he has been steadily recovering his strength.
In the warm spring weather in the last few weeks, Thay has been able to enjoy going outside, sitting under a tree and listening to birdsong, drinking a cup of tea and enjoying the sound of the bell.
This week the medical team have given their approval for Thay to leave the rehabilitation clinic and return to his Hermitage at Plum Village. We are deeply grateful to the entire medical team at the University Hospital in Bordeaux for their professionalism and wholehearted care to support Thay's healing over the past four and half months.
Thay expressed his clear wish to return home, and arrived on Friday April 3, in time to enjoy the beautiful magnolia blossoms and the first spring leaves as they unfurl. We are all very glad that Thay can come back to his spiritual home, where his devoted team of monastic attendants are continuing to support him and care for him 24 hours a day, under the guidance of visiting doctors and nurses.
We hope that in the nourishing and peaceful environment of Plum Village, and with the support of on-site physical therapy and speech therapy, Thay will have favorable conditions to treat his hemiparesis and make progress in swallowing and recovering his speech.
We would like to thank our global spiritual family for your loving energy and support. Thay's journey of recovery will be long, and we thank you for continuing to send him your prayers and energy of compassion and healing.
It has been a pleasure to welcome so many of you at our monastic practice centers in America, Europe and Asia in the past few months as we walk, hand in hand, the beautiful path of awakening that Thay has opened up for us all.
With love and trust,
The Monks and Nuns of Plum Village
As part of the celebration of the 70th birthday/continuation of our teacher, Fred Eppsteiner, in March 2015, the Florida Community of Mindfulness offers this pictorial representation of his Buddhist Journey.
Published on Mar 23, 2015
In this "Lamp Transmission" ceremony at Plum Village during the summer of 1994, Fred Eppsteiner receives the "lamp of wisdom" from his teacher, Thich Nhat Hanh, thus becoming a new Dharma teacher. Fred then offers his first formal Dharma talk to the fourfold sangha.
Published on Jul 21, 2013
Attendees at Sunday sangha in Tampa on July 21st 2013 were deeply moved by Ruth Eppsteiner's (Fred's mother) sharing of her path of practice and how it has touched her life (and so many others!). Ruth's freshness at age 96 and her open embrace of life are an inspiration to all of us. Visit www.floridamindfulness.org for more teachings.

Official Announcement
Plum Village, France
February 19, 2015
To all Plum Village Practice Centers,
To all Practice Centers and Sanghas World Wide,
To our Dear Beloved Friends,
As we enter the Lunar New Year, and our practice centers conclude our annual 90-day Winter Retreat, we are very happy to report that our dear Teacher continues to steadily make extraordinary progress.
Thay has now moved to a specialist stroke rehabilitation clinic, where he is receiving the best possible professional care. The team of monastic attendants work closely with doctors, nurses and professional therapists, and accompany Thay twenty-four hours a day, offering massage, acupuncture and comfort care, and helping Thay with his physical training.
Thay is steadily recovering his strength and rebuilding his muscles day by day. We have been struck by Thay's great determination, motivation, courage and concentration as he sets his own program to train himself to learn anew how to sit upright, stand, and move his limbs.
The medical team is also helping Thay learn to swallow again, and last week Thay was able to drink his first cup of tea since November. The attendants prepared Thay's favorite tea in his cup, and Thay even signalled to invite everyone to drink a cup of tea with him. Contemplating the tea, Thay smiled, put his hand on his heart, and looked up. All could clearly see that Thay was reminding everyone to bring our mind back to our body and to look deeply into the tea, really enjoying the tea and the presence of those around us.
During the last full moon of the lunar year, Thay enjoyed watching the moon rise from his bed, and invited the attendants to enjoy it silently with him. In the peace and joy with which he enjoyed the moon, we can see Thay's love for the wonders of life and his generosity in teaching us to cherish these wonders at every moment.
With each week that passes Thay is becoming increasingly alert and engaged. Although Thay is not yet able to speak, he has begun to vocalize, and is developing a means of communicating silently with his attendants and physicians. Thay's path of healing is still long, yet we know that every moment can be a moment to deeply touch the wonders and miracles of life.
We are very grateful for the great compassion and support that Thay has received from his global Sangha Body, creating wonderful conditions for his recovery and healing. We are thankful for your practice of mindfulness and prayers sending positive energy to Thay, and for your letters, donations, and the many beautiful children's drawings.
Here in France the cold winter is beginning to give way to beautiful blossoms, in time to decorate the hamlets for the Lunar New Year, Thay's favorite festival. Last week the community prepared hundreds of traditional "Earth Cakes", and stayed up all night with music and song to cook them over open fires. Each New Year Thay offers us a compact "parallel verse," to guide our practice in the year to come. For this New Year of the Goat the Plum Village elders have chosen an excerpt of a poem written by Thay, which hangs at the altar of the Still Water Meditation Hall in Upper Hamlet:
Look deeply to understand clearly
Listen deeply to truly love
These phrases have been written in calligraphy and prepared in "diamonds" that can be printed and posted around your home or workplace, as gentle reminders to practice. (You may download the print-friendly pdf here >>>)
Wishing you health, happiness and many fruits of the practice,
The Monks and Nuns of Plum Village
Future reports on Thay's recovery will be posted officially at plumvillage.org, langmai.org, villagedespruniers.org, and www.facebook.com/thichnhathanh.